After the hype: What's going on with American Football in Australia?
By Luke Haynes, Strategy Director
Feb, 2023
Another year, another hot take on the Super Bowl.
"But you're 5 days late mate and you're supposed to move at the speed of culture."
Well let's talk about that.
Last year I wrote at length about how we should stop looking at the Super Bowl as sport, because the sport was very much secondary to the entertainment.
I stand by that.
Any game that lasts for over 200 minutes despite the ball being in play for about 10-12 minutes is fundamentally about something other than sport.
Like, "Rihanna pregnant super bowl" which topped search throughout Monday morning (Australia time).
Or, "how much did Rihanna get paid?" For those still asking: nothing. Halftime performers do it for the love of the game, the gravitas, the ego-stroking, or just old-fashioned publicity.
There's also the Buffalo-Brady line (I'm coining it) to consider. It talks to the fact that, at least in 2019, the internet was as interested in recipes for buffalo wings as they were in Tom Brady, who was arguably arriving at the peak of his fame.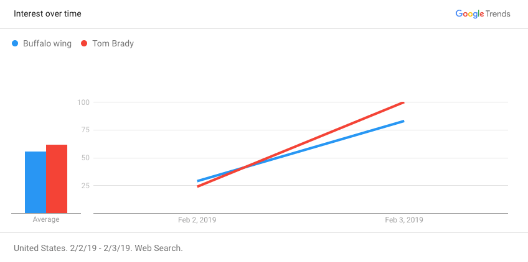 Food.
Music.
Showbiz.
All these things are as important, if not more important than the football.
But only on Super Bowl day.
So let's have a sober conversation about the relevance of NFL in Australia now that the sugar hit of the Super Bowl has worn off.
Let's first acknowledge that next to no one in Australia is playing it.
A shade over 3,000 in fact, per the folks at Gridiron Australia.
That's roughly about 1 in every 9,000 Aussies.
Which makes total sense – there are enormous barriers to participation in the shape of a basic lack of skills, coaching, infrastructure, understanding of the game, refereeing, pitches, playing kit, a critical mass of players, time scarcity and concerns over head injury.
But that doesn't matter because it's all about the entertainment, right?
Kinda. There's obviously some entertainment value once you remove the showbiz of the Super Bowl because there's a small but respectable number of Aussies tuning into the regular NFL season, despite it sitting behind a paywall and showing at somewhat unsocial hours of the morning.
There were 59 games in the last NFL season which pulled over 20,000 viewers behind the paywall on ESPN, with an average of 7,000 and a maximum of 48,000 tuning in to the Packers vs 49ers on a Sunday morning in what was, for the less knowledgeable amongst us, effectively the quarter-final of the NFL competition.
That's a long way short of the 329,000 who tuned into the Super Bowl last Monday morning and whilst these numbers aren't going to worry the folks at the AFL or NRL, they might give pause for thought to the A League who have had well-publicised issues attracting a broadcast audience on Channel 10, not to mention Paramount+.
Beyond broadcast
Does broadcast even matter?
Well, yes, obviously.
But it's Australians under the age of 45 who are engaging with NFL, unlike in the US where the NFL is grappling with an ageing audience.
Bespoke research by News Limited tells us that under 45s are also moving away from TV and print for mobile.
They're more prepared to pay for access to content – hence perhaps why we see Australia has the highest per-capita uptake of the NFL Game Pass
They're more likely to place a bet.
And they're engaging in fantasy sports – with Australia reportedly having the largest active player base for the NFL Fantasy League outside the USA.
It's a different way of fuelling your passion for sport.
What should I do with this information?
There are opportunities for brands here.
It's almost certainly not about spending A$10m to buy a 30sec spot in the Super Bowl, and probably that much again in production costs, talent and agency fees.
It's about finding a meaningful role for the brand in bringing fans closer to a sport they love. It's about adding value to their experience, showing that you understand what drives their passion and then making it cheaper, more accessible, or better.
And that's not just true for the NFL, it's relevant to any brand looking to connect with any community of passionates.
Up next
#Recessioncore: The Trend You Can't Afford to Ignore
Florence Fahmy, Social Content Creator and Kira Mobberley, Partnerships Account Manager | Feb 17, 2023